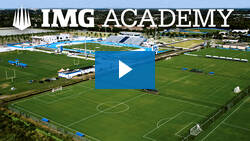 Everything an athlete needs to perform at their best can be found on the nearly 500-acre campus at IMG Academy. We offers a variety of living options for your camp stay, from dorm-style to apartment-style. Through our multiple dining options, and healthy selections, we provide the fuel that athletes need. IMG Academy also understands the importance of balancing structure and fun, which is why we provide many on- and off-campus activities for our campers.
Our campus serves as a one-stop-shop for athletes to reach their athletic potential.
IMG Academy provides campers with a variety of living options. From our state-of-the-art Residence Hall to our apartment-style Academy Suites, campers are provided with numerous options to customize their living experience and make their stay at IMG Academy as comfortable as possible.
IMG Academy serves a daily buffet style breakfast, lunch and dinner complete with healthy selections for the training athlete. Campers also have the option of eating at our full-service deli, which sits right next to the junior cafeteria.
As part of the IMG Academy training methodology, it's crucial to develop more than high-performing athletes. Athletes also need balance in their lives. Campus life at IMG Academy includes camper activities that are loads of fun and bond athletes from around the world.
For age appropriate activities for our younger athletes we have Club V.I.A. (Club Very Important Athlete). Dedicated specifically to our campers under age 12, Club V.I.A. provides a variety of activities, flexibility, and fun.